La Jolla is 12 miles north of sunny San Diego, CA, and occupies about seven miles of pristine SoCal coastline. Approximately 47,000 residents call this coastal hamlet home, and it's no surprise why the area is currently experiencing an aggressive seller's market. The average temperature is 70 degrees, allowing residents and visitors alike to bask on the beaches and ocean bluffs all year long. Additionally, La Jolla isn't bogged down by the massive tourism industry that congregates around San Diego.
The area's primary industries are software, finance, bioengineering, scientific research, real estate, and medical practice. La Jolla families with college-age students have a variety of top-notch educational institutions to choose from. The University of California, San Diego (UCSD) is in La Jolla, as is its offshoot, the Scripps Institution of Oceanography. Further, the
Scripps Research Institute
and the
Salk Institute
are both headquartered in La Jolla.
The 2021
median list price
of La Jolla homes for sale was $7,995,000, which is more than three times the median list price of $2,495,000 seen just one year earlier. An unprecedented seller's market like this means there are far more luxury buyers in search of La Jolla homes than there are homes on the market. La Jolla buyers will need an experienced La Jolla realtor to navigate the competition and purchase the home they're looking for.
If you find yourself wanting to explore La Jolla or de-stress with a few rounds of golf, check out the area's most picturesque golf courses.
Veteran golfers will appreciate the challenging courses and natural beauty of Torrey Pines golf course in La Jolla. Not only are the cliffside views out of this world, but the course is a favorite of golf legends, old and new. Torrey Pines played host to the 2008 U.S. Open Championship, where Tiger Woods beat Rocco Mediate after they battled each other over an exhaustive 90 hole run. Torrey Pines features two main courses, the North Course and the South Course.

The South Course is a favored location for U.S. Open Championships, most recently in 2021. Additionally, the North and South course both host the annual PGA Farmer's Insurance Open. Both courses are challenging and considered "pro" level, but the South course is known to be a bit more challenging. It offers players about 7,800 yards of play. A course with a standard degree of difficulty has a "slope rating" of 113, the South Course at Torrey Pines' slope rating is 148.


The North Course is shorter than the South course by approximately 1,200 yards. Both courses on Torrey Pines are challenging, but the North Course is a little kinder to golfers with less experience. But watch out for the infamous "Undertow" on the North Course. It lies from the second hole to the fourth hole, and even the PGA considers it one of the hardest on its tour. The North Course at Torrey Pines' slope rating is 131.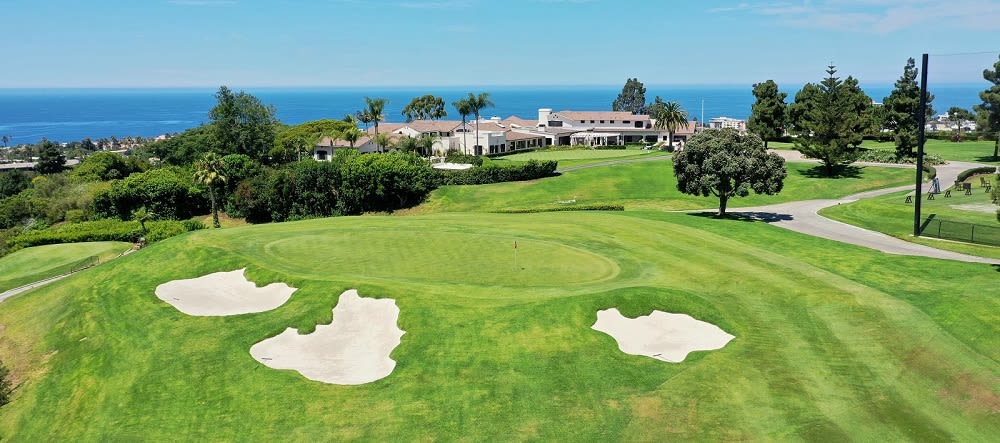 Many La Jolla homes for sale are located near the La Jolla Country Club, now in its 95th year of operation. The private, member-owned Club offers members an 18-hole, 6,713-yard course, a driving range, and a putting green. It was designed by famed golf course architect William P. Bell, whose design portfolio includes the private Bel Air Country Club course in Bel Air, CA, and the private Stanford University Golf Club course. Almost every hole offers Pacific Ocean views. The course is ideal for more relaxed golfers who enjoy a challenge but won't fret if some holes are easier to tackle than others. The La Jolla Country Club slope rating is 133.
The Bridges at Rancho Santa Fe
Located in the heart of Rancho Santa Fe,
the Bridges
is a stunning private golf course and country club known for its rolling citrus groves and lush fairways. This private paradise offers a stunning, signature golf experience designed by Robert Trent Jones II, who used the area's natural terrain to fashion a fantastic 18-hole course. The course is perfect for golfers of any skill level. Whether you're here to golf for fun or to up your game, you're sure to enjoy your time at the Bridges. Thanks to the dramatic design of the course, the Bridges offers a unique challenge for golfers looking to try something new.
Rancho Santa Fe Covenant Golf Club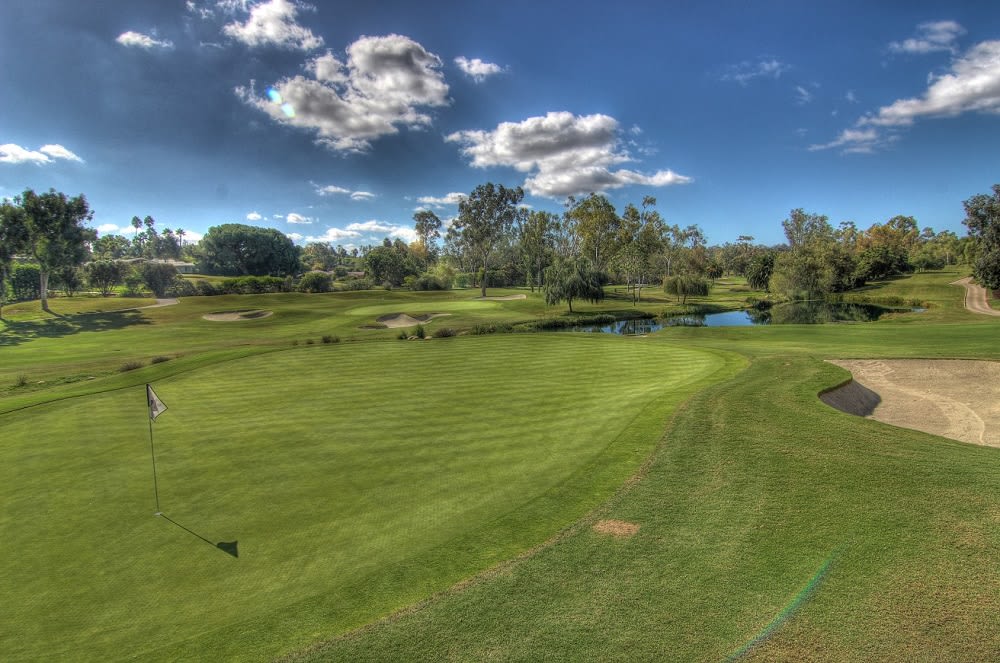 Credit: Rancho Santa Fe Association
For those who would like to live completely immersed in the golfing lifestyle,
Rancho Santa Fe Covenant
is the perfect place to explore. Homeowners in this community can experience the private, Max Behr-designed golf course, a favorite since 1929. Originally known as the home of the
Crosby Clambake
, the course has been ranked one of the top 100 walking courses in the nation. The course at Rancho Santa Fe Covenant is known for its combination of challenge and playability; equipped with practice facilities and options for golf instruction, this course is excellent for beginners as well as seasoned golfers.
Del Mar Country Club

Credit: Del Mar Country Club
Located in a picturesque area of Rancho Santa Fe, the Joseph Lee-designed golf course at
Del Mar Country Club
is known for its natural terrain and sweeping vistas. While playing a round of golf, you'll experience sparkling streams, pristine lakes, and breathtaking waterfalls. It's truly a picturesque backdrop for your day on the course! Equipped with five different tee settings, the Del Mar Country Club golf course offers a great experience for every skill level and style of play. The fairways and greens are well-maintained, ensuring a seamless experience for all. The course has even been named "Best Private Course" by
Ranch & Coast
magazine. Want to bring your furry friend along for the adventure? Del Mar Country Club's golf course is dog-friendly, creating a memorable experience that both of you will love!
Hunting for La Jolla or Rancho Santa Fe luxury homes for sale?